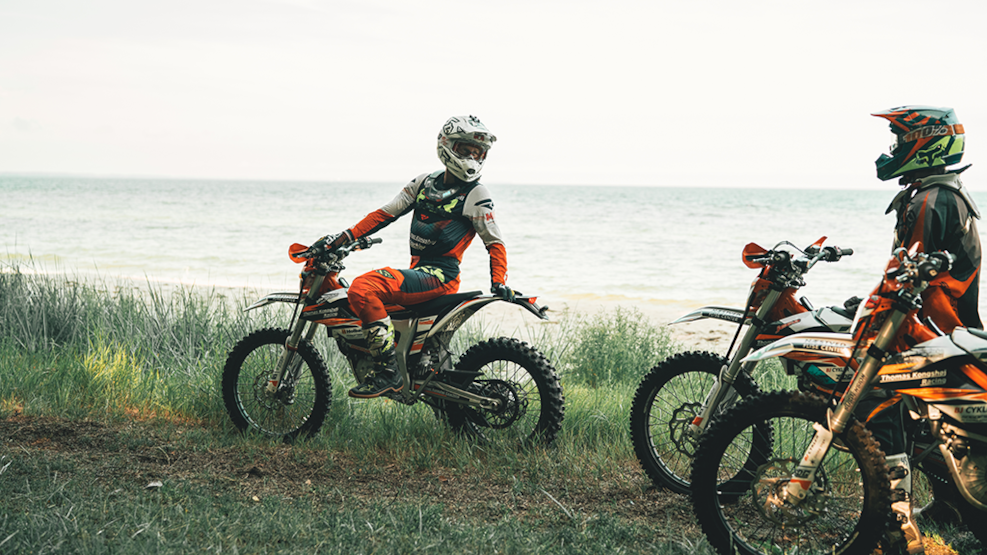 Thomas Kongshøj Racing
Are you into adventure? Then you have come to the right place!
Thomas Kongshøj is a professional Offroad driver and he is 10 x Danish champion in Motocross and Enduro under the name of Thomas Kongshøj Racing. Most recently, Thomas Kongshøj won a 3rd place at the World Cup in Abu Dhabi dessert Challenge. Thomas, has together with his talented team of mentors and instructors, made it possible for you to have a completely unique experience at Feddet in Denmark, which meet you at all levels of racing and adventure.
Here you get the opportunity to experience nature in a very special way! Let's ride the adventure together!
An experience at Thomas Kongshøj Racing is a completely unique trip throughout 650 hectares of beautiful nature. The experience is characterized by a mixture of Offroad and Enduro, which means that the drive takes place in nature, which involves sand, forest, soil and beach trips. Unlike Motocross which is on a closed track. EVERYONE can participate at their own level and everyone will have a good experience. We have put together a number of packages that give you the opportunity for adventure that fits you.
Thomas Kongshøj Adventure - For children
Let your children have an extraordinary experience with electric motocross for children (6-14 years). We switch between micro - mini and maxi driving. Helmet and safety equipment are handed out and are incl. In the price.
Alle kører 10 omgange eller 10 min på banen. Aktiviteten aflyses i tilfælde af dårligt vejr/optakt til dårligt vejr og forældre skal deltage af sikkerhedsmæssige årsager.
Instructors: Asger Jensen / Jakob Rolschau / Ian Richard / Ian Huges (English)
Venue: Feddet Camping on the BMX pitch (closed pitch) by the football pitch.
Time: Week 27-32 / 3 times a week - Keep an eye on the activity calendar at www.feddetcaming.dk
Registration: You can sign up between 10 and 11 on the day at the track. It is not possible to book in advance.
Price (kr. 200, - incl. VAT. pr. child. 
Thomas Kongshøj Adventure - For tourists at Feddet Camping
EL-Offroad is for EVERYONE! Whether you are a beginner or experienced, you will have a fantastic experience at Feddet.

The trip starts in pleasant surroundings, where you go through the electric KTM Offroad machines with a coffee in your hand. Unlike traditional machines, they do not make noise and do not use gears.  Then the participants are dressed in all safety equipment, and the team first receives training on a test track, then the team rides on adventures, at a leisurely pace towards the tracks in the forest. From here, the pace increases and the level of difficulty can be varied so that everyone is met at their levels among all the team participants. 

The scenic surroundings of 650 hectares, offer many varied tracks which are specially designed for the electric off-road machines. There are all types of surfaces and with different experiences along the way. The route is between 10-12 kilometers and you never drive the same track twice. The instructor regularly takes films and photos of the entire trip, which are subsequently shared with the participants. The trip lasts for one hour, and instruction and dressing takes about an hour. The activity is canceled in case of bad weather for safety reasons.
Instructors: Asger Jensen / Jakob Rolschau / Ian Richard / Ian Huges (engelsk) 
Place: Fedgården "Thomas Kongshøj Racing" Feddet 27, 4640 Faxe. 2 KM from the campsite. 
Requirements for participation: It requires a booking ticket / stay at Feddet to be able to participate. 
Time: We have 3 open sport per week at 15-17 o'clock (6 participantsper spot).
Registration: Keep an eye at the activity calendar at www.feddetcaming.dk and then book with Thomas Kongshøj on tel .: +45 2074 2029 - by appointment payment on mobilepay 683645.Price: 550, - pr. person incl. VAT.