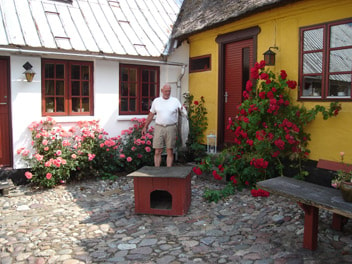 Ouregaard B&B
Thatched farm house situated in a peaceful and idyllic natural area, close to woods and beach.
1)
The apartment is app. 50m2 and is for 4 persons. Living room with wood burning stove, electric heat, bathroom and toilet. Kitchen with service and kitchenware for 6 persons, electric cooker, oven, refrigerator, coffee machine and boiler. On 1st floor is a room with 4 beds.2)
2 connected rooms on 1st floor in main house, 32m2, 1 with 2 beds, extra bed can be ordered. Private entrance and terrace, kitchenette (service and kitchenware for 4 persons) microwave oven, coffee machine, hot plates and refrigerator. TV-set. Common bathroom with toilet.
16 km to Møns Klint.

For further informations regarding prices and booking, visit Ouregaard's homepage.