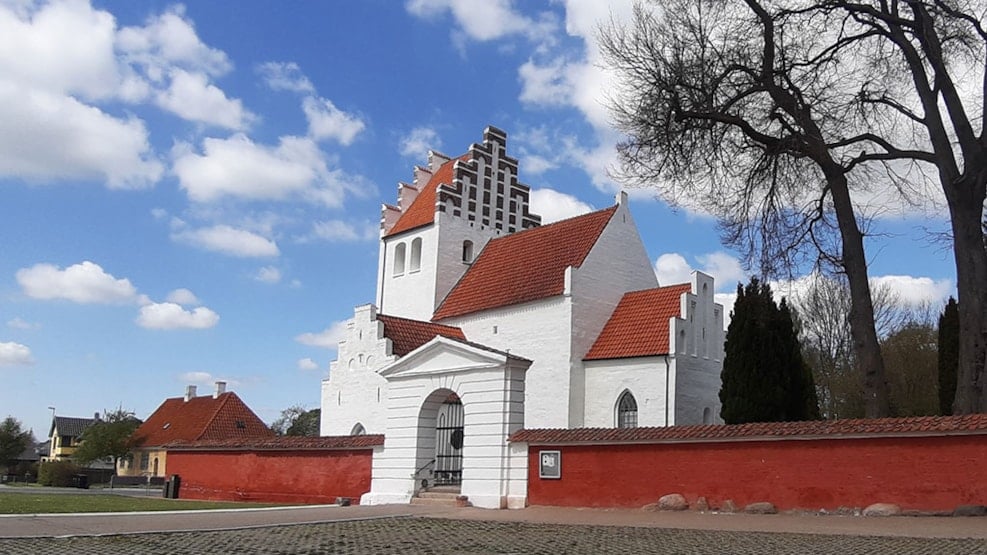 Lille Heddinge Church
This church i.e. its choir and nave, was built of chalk-stone in 1150-1225 and is in the Romanesque style.

At the end of the Middle Age, tower porch, vestry and the corbiestep gables were added. The nave is unusually high and has had tree storeys, perhaps even four.

The altarpiece dates from 1625 and has previously been situated in Vemmetofte abbey. Its painting is made by F.L. Storch in 1863 depicting Christ in the Garden of Gethsemane.

The pulpit dates back to 1610. Corner figures represent Andrew, Peter, Christ as Salator Mundi, and Paul. Most unsual, both Peter and Paul carry a seord; normally Peter carries the Keys of Heaven.

At the pulpit staircase one can see remains of a layman´s altar, the frescoe probably depicting the church´s patron saint, possibly St. Nicolaus. The front is made of granite. It is very simple, just decorated with a rope staff below the upper edge.