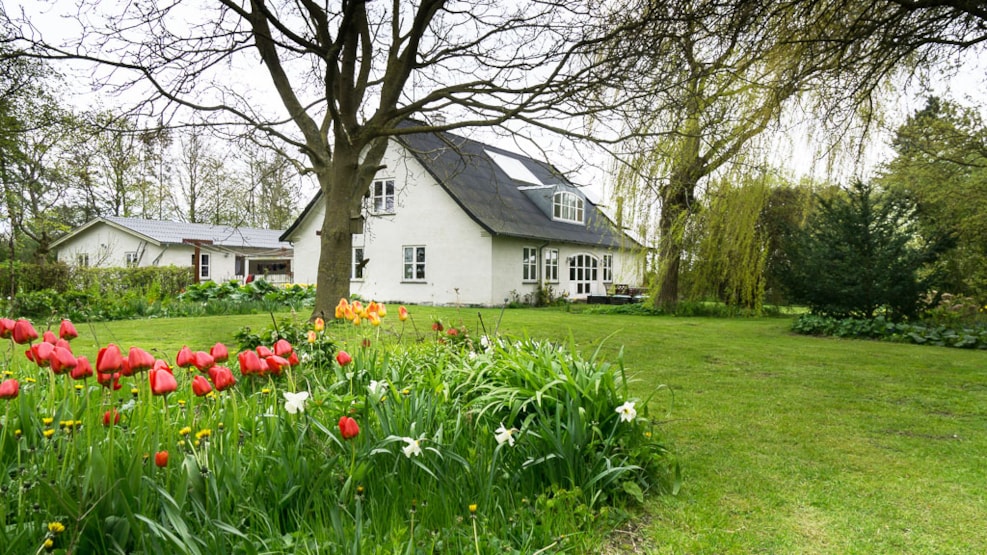 Karens Bed & Breakfast
At Karens Bed & Breakfast, you have really arrived to the countryside, so only the birdsong and the mooing of the cows disturb the peace. From the large charming garden, full of beautiful flower beds, there is a wide view of fields and open countryside. The nearest floodlighting is one and a half kilometres away, so when evening darkness arrives on a cloud-free day, you can sit in the garden and enjoy the most amazing starry sky.
Karens Bed & Breakfast has a large bright room with room for four people. There is a TV and internet access in the room and access to private bathroom / toilet. Breakfast is organic and consists of muesli, juice, eggs, bacon, cheese and marmalade, also home-baked bread and honey from the farm. The breakfast should be ordered upon arrival.
The house is surrounded by a 4,000 square metre garden, so there is plenty of room for a game of croquet or finding a cosy spot and enjoy the peace. It is also possible to grill and use the large terrace overlooking a small romantic garden pond. If you want to eat out, it is only 6 kilometres to Rødvig and the town's many restaurants.
Also, do not forget to say hello to the long-haired Scottish highland cattle that are in the field next to the garden.
Payment can be made in Danish Krones, Euros or with MobilePay.