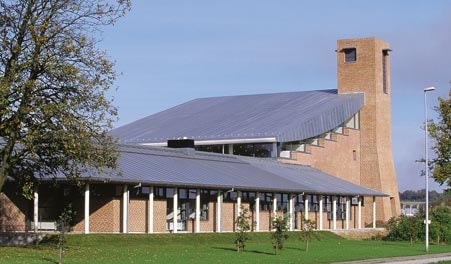 Holsted Church
On December 3, 2000, the congregation of Holsted separated from the parish of Herlufsholm and was established as an independent church parish.

With the establishment of the church parish, a congregational community arose between the three old villages Holsted, Øverup and Vridsløse and the large residential and commercial buildings, which in recent years came to exist within the borders of the municipalities.

The new parish has natural borders: the Suså River in the west, Ellebækken in the south and the high hills in east and north.

The same architects from "Sahls Drawing Parlor" in Århus were responsible for building the parish courtyard (1997) and the church (2001), and also built three churches in prior years.

The Holsted church is situated in a high location and with its 18 meters high bell tower, the majority of the community should be able to see and hear it.

The square sanctuary itself has a lofty ceiling. The skylight, which allows light in from all four sides, permeates the church with exquisite sunlight, which, together with the stained glass mosaic behind the altar of Maja Lisa Engelhardt, makes the sanctuary calm and devotional.

Maja Lisa Engelhardt was also responsible for producing the church?s "Holy Baptismal", which was inaugurated in the autumn 2002.

The priest?s chair is made of stone and trimmed like the sanctuary. The desk is from light beech. The granite altar consists of three surfaces, polished on the outside and rough on the inside surface.

The church contains 221 fixed seats, which can be supplemented depending upon need. On "big" days; the impressive folding doors of solid birch can be opened, so that the Café environment can also be included in the church. Both the church and the Café have a good surround sound loudspeaker system.