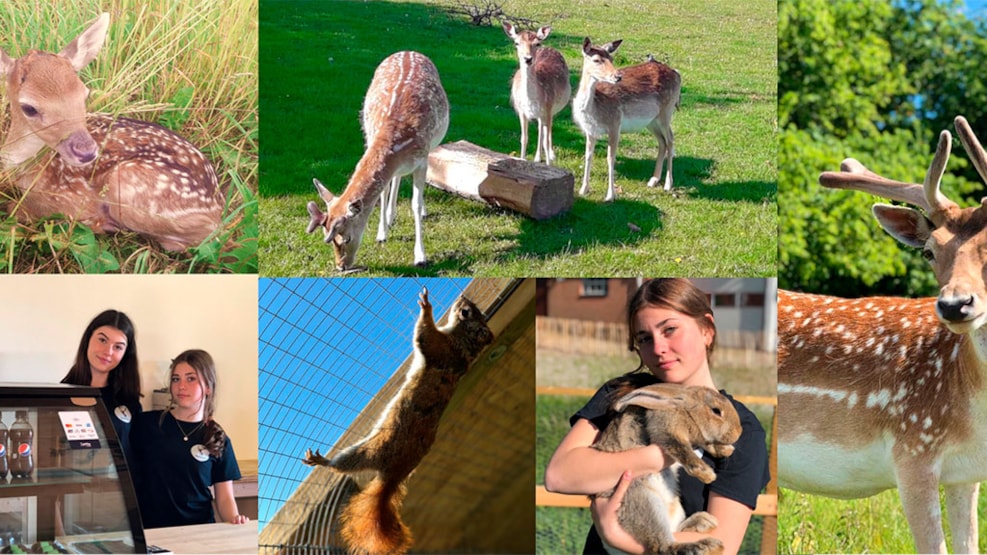 Hjortehaven
Welcome to Hjortehaven, here is free admission for children below moose mule height!
Here you can get an antler selfie with the fallow deer Harald's antlers from last year, while he watches with his new antlers, which is growing at breakneck speed.
Hjortehaven (Deer garden) is a small place with peace and a low pulse, here the children can safely go exploring, see the animals, explore Badger's cave, have fun with games and play activities and cuddle with the cute rabbits, Mille and Molly. There are also quail, beautiful pheasants and some naughty squirrels, which like to show off with a little acrobatics when feeding.
You can also see the diamond sturgeon Søren, he is over 3 feet long - and you can feel him on his back when he slips past.
We feed squirrels and fallow deer every day around noon. 12 and are happy to tell some stories about the animals if you are interested.
In the cozy farm shop / café you can buy a selection of drinks, ice cream and snacks and you are welcome to bring your own food basket to Hjortehaven.
We also have a fine selection of delicious Danish venison, so you can bring some goodies home for the grill - and of course we also have some vital souvenirs that you can´t do without, on a perfect holiday.
Hjortehaven opened at Pentecost 2022 and is still under development, so new activities are added regularly, which can challenge and delight the children.
We look forward to seeing you in Hjortehaven!