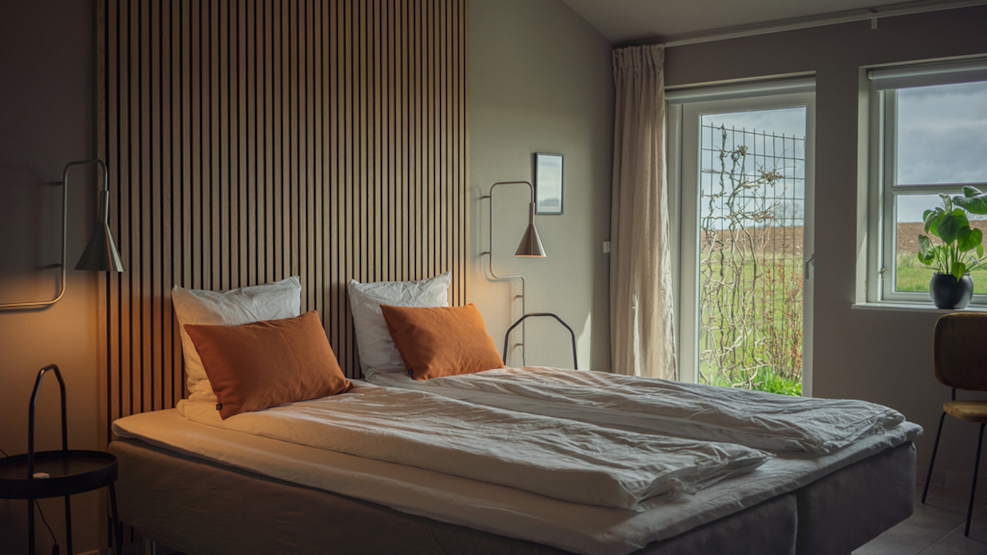 Bakkelund Bed & Breakfast+
At Bakkelund Bed & Breakfast+ you can expect a little more. Here, service and comfort excels, and rooms as well as common areas exude homely and stylish luxury.
At Bakkelund Bed & Breakfast+ it is about being able to relax and enjoy the beautiful surroundings, both indoors and outdoors. That is why we have decorated Bakkelund B&B+ tastefully and timelessly, striving to create an oasis where our guests want to be, just to be.
The organic breakfast with homemade sourdough buns is served every morning in our cozy café, which also serves as a mini café in the summer during the day. So even if you do not spend the night at Bakkelund B&B+, you can get a taste of the place along the way.
Bakkelund B&B+ is centrally located on a hilltop on the eastern part of Møn, between Stege and Møns Klint. You have a view of the sea to both the north and south, and Klinteskoven by Møns Klint is seen on the horizon a little 10 km away. We have cats, chickens and rabbits, and the large garden invites to both play and relaxation in the many cozy nooks.
It is possible to rent bikes for the whole family, so hop on the bike and go to the beach or visit the many exciting sights on Møn.
We have a total of 12 rooms, of which 9 rooms have their own shower and toilet. They also have a large loft with space for the kids so the whole family can sleep together.
If you are looking for a place where it is possible to gather the whole family or all of your friends, the whole Bakkelund B&B+ can be rented for private events and parties. The event room can fit up to 80 guests and Bakkelund B&B+ is thus the perfect place for e.g. a wedding weekend away from the city.
Welcome to Bakkelund Bed & Breakfast+, where we always strive to give our guests an experience in B&B top level, with a homely and cozy touch.